2022 Best Eye Massager - It's time to relax your eyes and enjoy
Eye massage can be very beneficial for people who suffer from frequent eye strain, strain or eye fatigue. If you have any of these conditions, you may want to purchase an eye massager so that you can receive regular eye massages on your own schedule. Of course, eye massagers do not work directly on the eyes, but rather gently massage the skin around the eyes. They can help increase blood circulation around the eyes, relieve eye strain, promote relaxation, and even improve dark circles or fine lines under and around the eyes. Some people also find that regular eye massage helps relieve tension headaches or blurred vision or lack of concentration caused by fatigue.

What is an eye massager and how does it work?
An eye massager is a specialized machine that helps relieve headaches or neck pain. It's a great way to relax your eyes and take some time to unwind after looking at the computer. These eye massagers are charged by batteries so you can easily take them with you.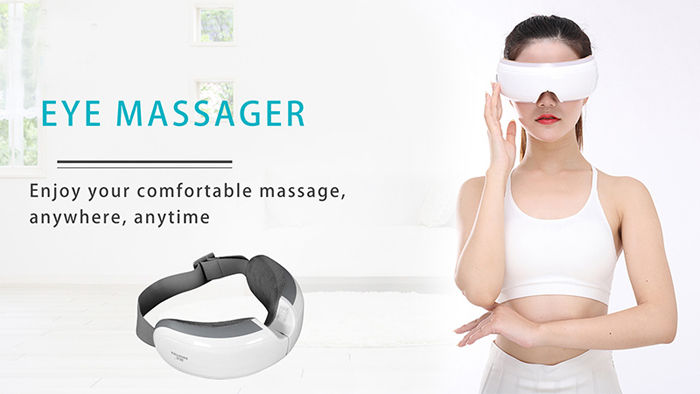 What are the benefits of an eye massager?
While some people claim they don't get any benefits from eye massage, others are keen to recommend this tool. As it turns out, eye massagers have many advantages. Here are some of them.
Pain relief- If you suffer from severe and sometimes unbearable headaches, then a massager may be perfect for you. Its main function is to relieve pain by keeping the facial nerves calm.
Improves skin structure - Eye massage tools can remove wrinkles and fine lines from your face. For some women, this is like a dream come true. All you need to do is relax and enjoy, and the massager will do all the work.
Helps your eyes - In addition to improving your vision, eye massagers can prevent dry eyes.
Help eliminate insomnia and anxiety - Eye massage can help you sleep better. A temple massage will increase oxygen flow and help reduce anxiety.
How many types of eye massagers are there to choose from?
There are many different types of eye massagers on the market today. It is vital to understand the differences so that you can choose the one that is best for you.
► Infrared Eye Massagers - They are best for improving blood circulation. Good circulation promotes better vision and reduces inflammation.
► Hot Eye Massager- This is the best eye massager for eliminating dark circles. It heats the skin, opens the pores and reduces inflammation.
► Manual Eye Massager- If you don't like automatic devices, then this one is perfect for you. You can control the options, massage intensity and time. They are lightweight so you can take them with you.
What to consider before you buy
There are a few things you need to know before you consider buying an eye massage tool. Even the most popular ones may be wrong for you, so it's important to check these things before you buy.
1. Comfort - Make sure you check the material and weight of the eye massager. Remember, it will be in direct contact with your skin, so anything less than smooth can cause irritation. Most massagers are made of silicone and come with soft cushions that rest comfortably on your eyes.
2. Settings control - It is important to choose a massager with multiple functions and settings so you can change them according to your condition and use.
3. Massager power - If you don't want to invest in batteries too often, then choose a rechargeable one. However, be careful! Sometimes even with rechargeable models, you may have to wait until they are fully charged.
4. Type: Each eye massager has its advantages and disadvantages. There are wearable electronic models that are very similar to eye masks, manual rollers or electronic wands. Wearable electronic models are hands-free and offer the most features, but they are also more expensive and require regular battery replacement or recharging. Wheels are manual, which means they require more effort and don't have as many features, but they are both portable and inexpensive. Electronic sticks fall between the other two types in terms of setup and price, and require minimal manual effort. However, they are not hands-free and require battery replacement or regular recharging.
5. Customization: If you decide to purchase an electronic eye massager, look for one with multiple settings to better suit your needs. Some will provide more than one speed or depth for the massage (although none of them are really deep tissue massages, as the skin around the eyes is very delicate). Those that offer heat or infrared capabilities also allow you to adjust their levels so that you can adjust the heat level to your comfort or needs. If you choose a wearable eye massager, look for one with adjustable straps so that it hits the right trigger points for tasks like tension headache or migraine relief.
6. Features: In addition to the basic functions, you can look for many useful and convenient extras in an eye massager. Some have built-in speakers with relaxing music or Bluetooth or wireless connectivity, so you can include them in your playlist while enjoying your massage. Others are operated by remote control rather than using the touch screen to change settings. Some models will have cooling and heating temperature options, or fold into their own carrying bag for easy portability. Some rollers and wands can be used to relieve pain or reduce puffiness in other parts of the face, not just around the eyes. Other electronic models offer air compression or shiatsu massage on top of the regular massage settings. Consider what additional features your eye massager may need and choose your model accordingly.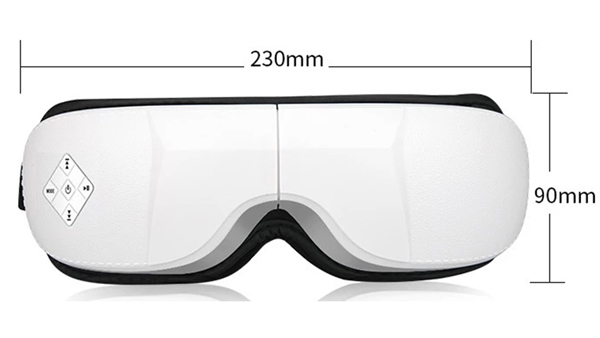 Top Choice: Xingbu Rechargeable Eye Therapy Massager
This is a functional, well-equipped and practical eye massager that is perfect for teens, adults and seniors. If you have to sit in front of a screen all day at work or are prone to dry eyes, this eye massager can help relieve sore, achy and dry eyes, relieve headaches and increase blood flow. Some users also find that it reduces puffiness around the eyes, helping to reduce stress and enhance relaxation. Whether you prefer kneading, trigger point therapy, oscillating pressure or percussion massage, this eye massager has something for you.
Functions:
1. Finger-pressing acupoint massage
Built in 5 digital simulation finger pressing massage modes, to massage and stimulate the acupoints around the eyes, activate the optic nerve.
2. Independent temple massage
Separate temple vibration and air pressure simulation massage, to relief brain nerve fatigue, and relax tensin, help thinking clear, improve work efficiency.
3. Heat therapy
Heating to improve hypodermis blood vessel dilatation, relief eye fatigue.
4. Multi-frequency vibration massage
Three kinds of frequency pulse modes make the eyeball and muscle of eyes more rhythmical movements and better blood circulation.
5. Smart air pressure massage
Built-in microcomputer, control changeable air pressure, adjust the best condition automatically according to different faces.
Button:
1. Wireless,Foldable 180° , English voice prompt
2. Intelligent air pressure
3. Multi-frequency vibrating
4. With heating
5. Timer: 15 minutes
6. Connectable Bluetooth
7. Rechargeable lithium battery; 1400 MHA: 6 Times/ 3 hours can be filled with electric,has UN38.3 and MSDS certificate
8. Modes: Clear Mode (Pressure +Heate+Music), Vitalit Mode (Pressure+Shake+music), Intergrated Mode(Pressure+Heat+Shake+Music), Kinetic Mode(Pressure+Music), Sleep Mode(Heat+Music).
9. Botton: Power on/off, Switch the Modes, Suspend/Play, Next song, Last song
Jinhua Xingbu Technology Co., Ltd is a high-tech company committed to R&D, manufacturing and sales of fitness and healthcare products. Any questions, feel free to contact us.