How Foot Massager Improves Poor Blood Circulation
The Xingbu foot massager is designed to stimulate the foot, ankle and calf muscles. Combined with manual pressure and heat therapy.
These individual therapies help muscle function, relieve pain, improve poor circulation, and reduce edema in the foot, ankle, and calf when using intermittent air compression.
The combination of these three therapies also helps relieve muscle soreness.
How does it improve my poor circulation?
For those who are currently seeking to improve circulation and/or promote blood flow, using the massager for 10-20 minutes a day can help improve circulation.
We often lead sedentary lifestyles and are used to using our muscles on a regular basis, but those muscles need to be taken care of.
When exercising, our muscles are often damaged by wearing tight and sometimes uncomfortable shoes, but with our circulation booster and number of treatments with the foot massager - the foot massager can greatly improve circulation in the lower extremities, which is especially important for people suffering from diabetes, edema and other possible conditions.
How does the foot massager work?
The Food Massager provides tumbling to the ball of the foot and pushing to the back of the foot and heel - this is combined with deep kneading and acupressure to the entire foot area.
Intermittent air compression therapy (edema reduction therapy) - a function that applies gentle pressure to the entire foot and ankle.
The therapeutic effects of intermittent compression are used to reduce edema and inflammation in the foot and ankle.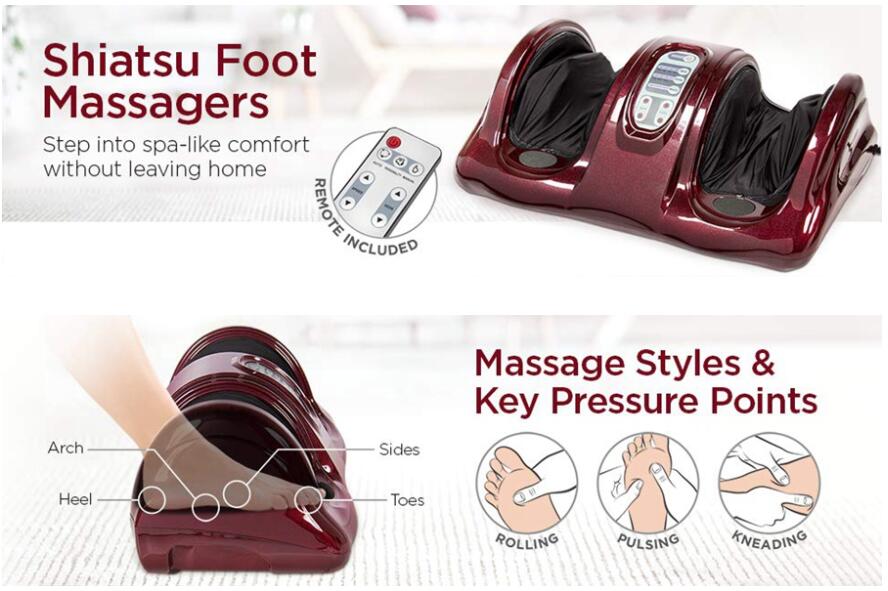 What is edema?
So, what is edema? - Edema is the medical term for a body part that is swollen due to injury or inflammation. Edema can affect a small part of the body or it can affect the entire body. There are many different medical problems or causes that can lead to edema, such as
► Pregnancy
► Infection
► Medications
► Allergies
► etc.
Can a foot massager help swollen feet and ankles?
Our foot massagers can help improve blood circulation and also relax muscles. The massager works by activating the lymphatic system to help drain excess fluid from the feet - this naturally reduces swelling.
As mentioned above, the massager is equipped with different types of therapies - these can be adjusted via the remote control provided with each Xingbu foot massager. Foot massagers are perfect for those who wish to reduce swelling in their feet and ankles.
Any inquiries about foot massagers, please feel free to contact us.