How a Foot Vibration Machine Can Benefit Your Health
If you've had a long day at work or a heavy workout at the gym, your feet may be feeling a little sore. A foot massage can come into play here and bring you the relief you crave. Not only will this rejuvenate your lower extremities and eliminate pain, but it will also enhance your overall health.
Even a quick 5-minute massage on your feet can help reduce stress and rejuvenate your body. This, in turn, will make you more relaxed and active, which is associated with better health choices. What's the best way to give your feet the massage they truly deserve? That's right - a vibrating foot massager.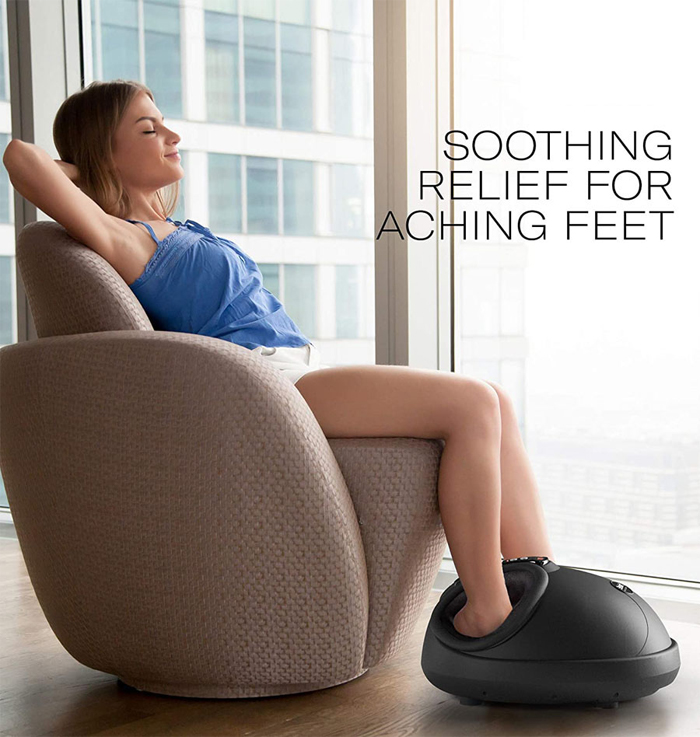 Foot Massager
Is vibration good for your feet?
Vibration can be divided into 2 major categories - occupational and recreational vibration. Both types are associated with the emission of mechanical oscillations through your body, however, one of them is detrimental to health, while the other has been linked to positive health outcomes.
As the name suggests, occupational vibration (OV) is experienced by people whose job is related to the use of heavy vibrating machinery, such as The 2 negative aspects of OV is the long duration (6 - 8 hours a day, 5 - 6 days a week) and the extremely high rate of vibration, which is associated with the use of heavy vibrating machinery, such as jackhammers, concrete breakers, or powered lawnmowers. The 2 negative aspects of OV is the long duration (6 - 8 hours a day, 5 - 6 days a week) and the extremely high vibration frequencies (well over 100 Hertz).
Recreational vibration (RV), on the other hand, has been found beneficial for more or less every area of human health. One of the most popular types of RV is One of the most popular types of RV is whole-body vibration (WBV) - an activity that is performed on a foot vibration machine, or as it is sometimes referred to - a foot vibrating circulation machine. WBV uses lower frequencies (5 - 40 Hertz) and requires only 15 - 20 minutes a day, 3 - 4 days per week. - 4 days per week.
According to scientific evidence, whole-body vibration has been linked to increased levels of feel-good chemicals, reduced pain sensations in your According to scientific evidence, whole-body vibration has been linked to increased levels of feel-good chemicals, reduced pain sensations in your feet, boosted circulation in the lower extremities, more flexible joints, and stronger muscles in your legs, to name but a few. people who often suffer from sore feet, poor blood circulation, and stiff joints.
Is a vibrating foot massager good for you?
Since its mass introduction to UK consumers, foot vibrators have improved human health in more or less every way. Improved muscle tone, increased bone mineral density, improved tissue blood flow, accelerated recovery, reduced chronic pain, a healthier BMI and reduced foot stress are just some of the many benefits of this device.
The innovative fitness equipment includes a vibration plate that emits vibrations at various frequency levels. As a result of these vibrations, our bodies are forced to work harder to maintain balance for an overall body workout. You can stand on the plate or place your feet on the plate and let the mechanical vibrations do the work for you.
Another great benefit of a vibrating foot massager is its ability to normalize blood pressure. According to scientific studies, elevated blood pressure is associated with increased pain in the lower extremities. Ten to 15 minutes a day is enough to start improving blood pressure.
When it comes to the health of our feet, the most prominent benefits of the foot vibrator are
● Reduced pain in the feet and legs
● Improved blood flow to the ankles, heels, feet and toes
● More flexible joints, including the lower extremity area
● Normal blood pressure
● Stronger muscles, including the leg and foot area
● Denser bones and foot joints
What is the Best Foot Vibration Circulator?
Buying one of the best foot massagers may feel like a bit of a luxury, but there are many benefits to one of these gadgets. Not only are they the perfect treat at the end of a long day, they can also help sore feet recover faster, and they are also good for your blood circulation. Many of these devices are quite reasonably priced, so it's an easy way to justify mini hospitality.
Don't confuse foot massagers with the best foot spas. While foot spas have their benefits, they can be a bit of a hassle, requiring them to be filled with water and then emptied and cleaned beforehand, foot massagers are much simpler to use. All of these are designed to relieve aching, tired feet when you need them, but they do so in different ways; many of them use rollers, while others use vibration, air compression or even electro muscle stimulation (EMS).
Xingbu foot vibration plate layers shake with 10 speed setups to massage therapy your feet and also legs, relieving pains, calming soreness and also assisting you loosen up.
Unique acupressure heads are flawlessly aligned with the soles of your feet: working along with the shaking foot plates, the acupressure innovation massages into the soles of your feet for a refreshing massage to assist re-energize as well as re-energize your legs and feet.
10 massage levels: with a click of the remote you can readjust your massage strength. Do you favor a relaxing, gentle massage therapy for your feet on an When you are available in from a long day standing up or walking would you such as a deeper, more intense massage therapy? vibration plate alleviation goes to your fingertips!
Easy to use, simple to store: simply put your feet on Vibro Legs and at the click of the remote you'll appreciate all the advantages of your customised foot And it's so portable you can conveniently glide it away when you're done!
Does a foot vibration machine work?
According to scientific data, the Foot Vibration Machine not only provides a great alternative to traditional physical activities such as resistance training, aerobics and stretching, but it also outweighs its benefits. The device outweighs the benefits of conventional exercise because it provides a lower impact of movement and results in twice the speed.
You can stand, sit or lie down on it without putting too much effort into it. Or, you can place individual body areas on the board, such as your feet, and benefit from a targeted workout. In addition to the above benefits related to the overall health and well-being of the feet, the Foot Vibration Machine has paved the way in the rehabilitation setting.
Another great benefit of the device is that it requires very little time. As mentioned earlier, 15 to 20 minutes a day, 3 to 4 days a week is enough for you to tap into all the benefits associated with its use. Thanks to technological advances, you can now use the machine from the convenience of your home or office.
The scientifically proven rehabilitation benefits of the device include.
► Relief of chronic back pain
► Improved balance in the elderly
► Reduction of bone loss (osteochondrosis)
► Relief of symptoms of various neurological disorders
► Better management of arthritis
► Relief of symptoms of osteoarthritis of the knee
Final thoughts
Since their introduction in the mid-1900s, body vibration machines have benefited human health in almost every possible way. Stronger bones, stronger muscles, better circulation, faster physical recovery and a reduced risk of chronic disease are just some of the benefits associated with regular use of the device.
Whether you want to improve blood flow to your feet, increase flexibility in your joints, or strengthen the muscles in your lower body, Whole Body Vibration offers the perfect way to do just that. Remember, not all machines on the market will provide you with the healthy results you are looking for, so do your due diligence and do it right before you click the "buy" button.